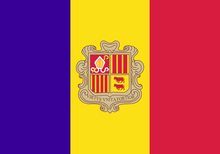 Basics

[

]
The Principality of Andorra is a landlocked microstate in Southwestern Europe, located in the eastern Pyrenees and bordered by Spain and France. 
While prices are slowly dropping, Andorra remains one of the most expensive places in Europe to use a mobile phone, both for buying a local SIM card and for roaming with a SIM card from outside Andorra. You should limit your data usage until you reach a different area in France or Spain at much better rates.
EU roaming

[

]

Be aware that Andorra is
not
part of the EU, nor the EEA, where from June 2017 new international roaming rules are enforced. So roaming rates are
not
capped or regulated in Andorra and can be much higher.
European providers treat Andorra very differently: only few charge the same as within the EU zone, but most will add a substantial surcharge for usage while roaming in Andorra. Better check your EU/EEA provider first before use, connect to a French/Spanish provider where possible, or buy a local SIM card instead.
Fortunately these high costs can often be avoided because Spanish or French antennas cover a major part of the country. Therefore, like always in border areas covered by multiple networks, be sure to prevent roaming by making a manual network selection. Down in the valley, 3G/4G reception from Spain or France is so not good. If you stay for longer, you might consider buying a local SIM card in spite of the high costs or look for one of the few cheap roaming options before.
Andorra Telecom

[

]

Andorra Telecom is the only network provider in this small country. The state owned company was formerly called Servei de Telecomunicacions d'Andorra (STA) a.k.a. Som. It has 2G on 900 and 1800 MHz and 3G/UMTS on 2100 MHz like in most of Europe. 4G/LTE is on 1800 MHz and 800 MHz (bands 3 and 20).
Availability

[

]
Their prepaid product used to be called Mobiland Clic! Now, it's only called Prepagament for prepaid. You can purchase a SIM card from the Andorra Telecom head office at Av. Merixell 112 in Andorra la Vella or its distributors. The sim card comes as a triple cut card, allowing to select the mini, micro or nano size. Andorra Telecom will ask for your ID, so be prepared to bring one (Passport or national ID card)
A SIM card normally costs a whopping 30 € including the same credit that stays valid for 5 months. There is currently a promotion where the kit only costs 15 € including the same credit valid for 2 months. If you activate the SIM with one of the two bundle packages, the cost of the SIM card is waved. It is possible to switch to the pay per use package afterwards.
eSIM activations can be done online as well, and will cost only the price of a month of service (you must choose either Tarifa S or Tarifa M). You will need to create an online account on the Andorra Telecom website here upload a photo of your passport as well as a selfie, and wait for a confirmation e-mail indicating that your registration has been accepted. Once it has, follow the link to finish creating your online account and select your desired starting tariff.
Top-ups can be done with vouchers for 15 €, 30 € or 60 € available in stores. Any top-up increases validity for one year. Check credit by *101#.
All top-ups are valid for one year. When you run out of credit, you have 2 months to top up your card. During this time, you'll be able to receive national calls and SMS. If you don't top up within this time, the number will be automatically unsubscribed and you won't be able to recover it.
Bundles

[

]
There are now two bundle packs which provide both a data and a voice allowance:
Tarifa S: 20 domestic mins and 1 GB for 9 €
Tarifa M: 60 domestic mins and 3 GB for 19 €
Overuse is at the per-use rate below for data and 0.26 € per minute for voice. No SMS allowance is included: they cost 0.16 € each to send.
Data feature packages

[

]
Data per use is charged at 0.02 € per MB without packages which have to be activated by sending a SMS. To check the remaining data credit, send a free empty SMS to 123. These bundles are sold (tax included):
| Price | Volume | Validity | Activation code |
| --- | --- | --- | --- |
| 2.00 € | 200 MB | 3 days | empty SMS to 102 |
| 5.00 € | 500 MB | 7 days | empty SMS to 103 |
| 9.00 € | 1 GB | 1 month | empty SMS to 104 |
International roaming

[

]
As Andorra doesn't belong to the EU or EEA, their rules don't apply. For roaming in Europe and USA, they sell a daily roaming package at 2 € with 300 MB valid until midnight of the day. Otherwise, data will be charged at 0.05 € per MB in Europe and in USA.
More information

[

]
APN: internet
Andorra Telecom has an app allowing you to manage the tariff, and recharge the SIM (worked with german visa card).
Website (partly in English, change at top right): http://www.andorratelecom.ad/
Roaming options from foreign providers

[

]
As Andorra is not a member state of the EU/EEA, it's excluded from the common "roam like at home" roaming zone of almost all European providers. This means that roaming data on the only network Andorra Telecom is mostly charged at excessive rates. You should try to avoid any connection with Andorra Telecom by choosing a Spanish provider instead. But coverage down in the valley may be quite weak and unstable on Spanish 3G and 4G/LTE networks.
Roaming with Spanish providers

[

]
According to this article of Xatakamóvil Spanish providers charge excessive rates between 3.63 € per MB up to 18.15 € per MB. The only exception is Movistar that charges generous 9 € for 3 GB on a daily basis for contract customers only, not for prepaid.
For all Spanish Orange SIMs like the Mundo SIM you can activate their "Everywhere" option in your clients area, by app or texting "EW" to 22095. This gives you 100 MB per calendar day at 7 € in Andorra.
Roaming with French providers

[

]
The situation is slightly better with French providers thanks to Orange again: Andorra is included within the EU zone of French Orange SIM cards and charged at the domestic French rate. This applies to prepaid SIM cards like Orange Holiday or Mobicarte as well as contracts like these of Sosh.
Roaming with other foreign providers

[

]
Most other EU providers now exclude Andorra from their discounted roaming zone as they need to pay for their customers' usage on the Andorra Telecom monopoly network at much higher wholesale rates. If you stay for a short time, disable data roaming or try to connect to a Spanish provider; if you stay for longer, buy a local SIM.
These few EU providers offer Andorra roaming under Roam like at home conditions at domestic prices:
Orange France, see France
Vodafone Netherlands, see Netherlands
Ay Yildiz Germany see

o2 Germany