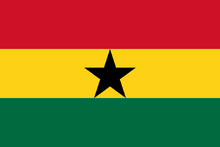 Basics

[

]
Ghana has one of the most vibrant and developed mobile markets in Africa. In 2017 the total number of mobile subscriptions was 36 million and prepaid users accounted for 99% of the market.
Operators

[

]
6 coming down to 4 national operators are competing for customers in Ghana:
MTN Ghana 
Vodafone Ghana 
AirtelTigo (merged Airtel and Tigo) 
Glo Ghana 
Expresso Ghana (closing down) 
Expresso Ghana, which was sold by Sudatel Group to its original owner Kludjeson International Ltd, faces an uncertain future, following reports that the National Communications Authority doesn't plan to renew its operating licence when it expires in 2019. Expresso claimed just 0.1% market share.
National networks are on 2G/GSM 900 MHz and 1800 MHz and 3G/UMTS 2100 MHz plus 900 MHz from 2017. Coverage and speeds are fairly good compared with regional standards and Ookla speedtests show an average of 9 Mbps for the country.
4G/LTE has started on MTN and Vodafone on 800 MHz (Band 20) and two further 4G-only operators mentioned below in a limited area:
Surfline Ghana - 4G/LTE 2600 MHz (band 7)
Busy - 4G/TD-LTE 2300 (band 40)  
Blu Telecom - 4G/TD-LTE 2600 (band 38)  
Blu Telecom is not mentioned on our list as it gears to the home market and doesn't sell SIM cards without hardware. All of the three are unsuitable for travellers as they don't offer any 2G/3G fallback, roaming or voice calls.
Regulations

[

]
The Ghanaian government has announced a new directive to fight mobile money fraud in the country by ordering customers of the service to re-register their SIM cards in November 2017. So be prepared to show your passport at the point of purchase.
The SIM card alone should cost about 1-2 cedi in town. There are shops at the airports too. If you don't need data right away, better avoid the guys at the airport for purchasing SIM cards, unless you are happy to pay multiple times the market price like 10 cedi for a new SIM.
Ghana's mobile operators AirtelTigo, MTN and Vodafone plan to increase their tariffs from 1 November 2018 to reflect the recently approved tax hikes in the country.
In 2019 Ghana's Government announced that all mobile phone SIM cards will be deactivated unless re-registered between 1 January and 30 June 2020. Subscribers will need to present a national biometric identity card, such as a driver's licence, passport or Ghana Card, as part of a programme conducted by the National Communications Agency (NCA) with the cooperation of telecom companies. The Minister told a press briefing that the measure will help law enforcement agencies identify SIM card owners, track criminals, curb incidents such as phone theft, hate text messages, mobile fraud activities, incitement to violence and other crimes.
Currency in this article is the new Ghanaian Cedi (GHc or GHS) and all taxes are included.
Quality of service

[

]
Ghana's Minister for Communications has issued a warning to mobile network operators Expresso and Glo Mobile that they risk losing their licences if they fail to meet a 30-day ultimatum given by the ministry with regards to their poor operational performance. The minister is convinced that the country's telecoms watchdog will revoke the licence held by Expresso and also expressed surprise at Glo's poor performance in Ghana,
MTN Ghana

[

]
It's the only major network so far that has rolled out 4G/LTE from mid-2016, now available in every regional capital and some larger towns 2G/3G 4G coverage map. For LTE they use spectrum on 800 MHz (B20). In March 2019 they activated its '4G+' service based on LTE-A carrier aggregation technology, disclosing that it currently operated 1,226 4G LTE sites of which 625 were LTE-A enabled.
Availability

[

]
MTN SIM cards should be bought in an outlet (store locator) of the provider for proper registration showing your passport for GHc 1 or 2 with minimal balance.
For topping up scratch cards are sold all over the country. Enter *134*<voucher PIN>#. Check balance by *124# and your number by *156#.
Alternatively, you can top up your prepaid number via global online portals such as swiftrecharge.com which allows to buy top-ups from anywhere in the world using foreign bank cards along with crypto currencies like bitcoin, ethereum or usdt.
Data feature packages

[

]
The pay per use tariff is GHc 0.0525 with a 50% discount from midnight to 4:59am. These bundles are offered for data:
Data
Time
Price
25 MB
24 hours
GHc 0.50
50 MB
GHc 1
120 MB
GHc 2
500 MB
GHc 3
25 MB
7 days
GHc 1
60 MB
GHc 2
180 MB
GHc 3
300 MB
GHc 5
1 GB
GHc 10
400 MB
30 days
GHc 10
1 GB
GHc 20
2.5 GB
GHc 40
4 GB
GHc 60
6 GB
45 days
GHc 80
10 GB
GHc 120
15 GB
GHc 150
100 GB
30 days
GHc 300
150 GB
GHc 349
200 GB
GHc 399
These night bundles are offered:
3am-5am, 3 GB: GHc 1
midnight-5am, 5 GB, GHc 3
All taxes are included. To activate, type *138*1#
African roaming offer

[

]
MTN gives out special rates for roaming in other MTN networks in Afghanistan, Benin, Botswana, Cameroon, Cyprus, Guinea, Guinea Bissau, Iran, Ivory Coast, Liberia, Nigeria, Rwanda, South Africa, South Sudan, Sudan, Swaziland, Uganda, Zambia and Yemen. The Default rate is GHc 0.0610 per MB (GHc 61 per 1GB).
More info

[

]
Vodafone Ghana

[

]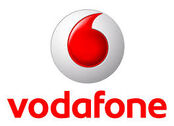 Vodafone Ghana used to be the second placed rival, but will be overtaken by the merger of Tigo and Airtel. It was formerly called Ghana Telecom and was the national telecommunications company of Ghana. In 2008 Vodafone agreed to acquire 70% of Ghana Telecom from the Ghanaian government while the Ghanaian government retained a 30% stake.
Vodafone has started with 4G/LTE in a partnership with Surfline Communications (see below) to offer 4G services to its own customers in the cities of Accra, Tema and Takoradi. In 2019 Vodafone received spectrum on the 800 MHz (band 20) for LTE services, that have been launched in the springtime.
Availability

[

]
The SIM card is sold for a minimal fee of a few GHc in their stores. It comes with an initial airtime of 1 Cedi and a pre-loaded 50 MB data on the new SIM card. For 4G/LTe you need a 4G-enabled SIM card.
When the SIM card is not used for 3 months, it becomes inactive; after 6 months it is deactivated and lost.
To top-up use refill cards sold all over. Enter *125*<voucher PIN>#. SIM stays active for 3 months after each top-up, and another 3 months in passive mode before deactivated.
To check your balance type *124#, to know your number *127#.
Data featured packages

[

]
Default rate outside packages is GHc 0.10 per MB. These packages are offered:
Data
Time
Price
Activation
25 MB
24 hours
GHc 0.50
*700*65#
130 MB
GHc 2
*700*24#
550 MB
GHc 3
*700*28#
1 GB
GHc 5
*700*15#
2.5 GB
GHc 10
*700*57#
100 MB
7 days
GHc 2
*700*27#
600 MB
GHc 6
*700*30#
1.3 GB
GHc 12
*700*31#
3 GB
GHc 20
*700*59#
5 GB
GHc 30
*700*60#
550 MB
30 days
GHc 10
*700*32#
2 GB
GHc 20
*700*34#
4.8 GB
GHc 40
*700*37#
7.3 GB
GHc 60
*700*38#
13.3 GB
GHc 100
*700*40#
20 GB
GHc 149
*700*45#
40 GB
GHc 249
*700*48#
for Sunday: 150 MB, GHc 2, *700*55#
for nighttime use (midnight-4am):

2 GB: GHc 2, *700*71#
7.5 GB: GHc 7.50, *700*72
To check bundle information, type *126#. All bundles auto-renew. To stop type *700*3#.
More info

[

]
AirtelTigo (merged between Airtel and Tigo)

[

]
In 2017 Bharti Airtel has merged with Millicom's Tigo in Ghana to become the country's 2nd largest mobile operator called AirtelTigo with a 26% market share.
The regulator granted conditional approval for the merger in 2017. In the following months the two networks were integrated. In December 2018 AirtelTigo has announced that it has completed the network integration it has been carrying out for the past year. The new network is shown as Tigo on most phones.
Availability

[

]
SIM cards are sold in their stores and sales points. Top them up with Tigo vouchers. Check balance by *124# and enter refill card by *134*<voucher PIN>#. A subscriber in active state will move to suspend state in 90 days without any recharge activity. All old customers are recommended to swap SIM cards for free because of the merger.
Data feature packages

[

]
As there are many old legacy plans of Tigo and Airtel default data depends on plan and is at GHc 0.10-0.56.
For introduction they offer new data bundles that don't expire and are valid until used:
| Price | by code | by scratch card |
| --- | --- | --- |
| GHc 0.5 | 25 MB | n./a. |
| GHc 1 | 65 MB | 80 MB |
| GHc 2 | 150 MB | 200 MB |
| GHc 5 | 550 MB | 650 MB |
| GHc 10 | 1.5 GB | 2 GB |
| GHc 20 | 4 GB | 5 GB |
| GHc 50 | 10 GB | n./a. |
You get better prices when you apply a data scratch card instead a code from your balance. To top up a data scratch card, us *126<voucher code>#.
Activate bundle by *500#. Check remaining data by *504#. Special social media bundles for WhatsApp, Facebook,Twitter & IMO are sold too.
More info

[

]
APN: internet /or/ web.tigo.com.gh
GLO Globacom Ghana

[

]

GLO for Globacom from Nigeria entered the Ghanaian market some years ago. It's the new 4th ranked operator with a meager 4% share. Due to its lower coverage, it can't be recommended for travelling through the country.
In 2018 Glo is close to being closed down due to non-payment of a debt worth around GHc 10 million (US$ 2.1 million). The Ghana Revenue Authority (GRA) suspended Glo's activities as it cracks down on operators defaulting on tax payments. The GRA has given Glo more time to pay its debts or risk closure within the coming months.
Availability

[

]
Their SIM cards can be found at their stores called Gloworld (list). For registration 200 MB data is given as bonus.
Buy refill cards on the street. Check your balance by *124#.
Data feature packages

[

]
Default data is a low GHc 0.03 per MB. These bundles are offered:
Data
Time
Price
Activation
40 MB
1 day
GHc 0.50
*127*16#
100 MB
GHc 1
*127*1#
300 MB
GHc 2
*127*12#
750 MB
GHc 3
*127*18#
300 MB
3 days
GHc 3
*127*17#
3.75 GB
GHc 10
*127*24#
50 MB
7 days
GHc 1
*127*10#
200 MB
GHc 2
*127*12#
350 MB
GHc 3
*127*13#
700 MB
GHc 5
*127*2#
1.7 GB
30 days
GHc 10
*127*14#
3 GB
GHc 15
*127*4#
4.2 GB
GHc 20
*127*22#
5.5 GB
GHc 25
*127*15#
7 GB
GHc 30
*127*65#
10 GB
GHc 40
*127*5#
15 GB
GHc 50
*127*3#
20 GB
GHc 60
*127*6#
30 GB
60 days
GHc 80
*127*33#
40 GB
90 days
GHc 100
*127*19#
75 GB
GHc 150
*127*7#
unlimited voice and data for 30 days: GHc 300, activation: *127*30#
All unused data rolls over to the next period, if you buy a new bundle. Check data balance by *127#
More info

[

]
Surfline (closed)

[

]

Surfline by 100% Ghana-owned Surfline Communications Ltd. started a LTE-only network on band 7 (2600 MHz) in 2014. It's so far only available in Accra, Tema and Takoradi (coverage map). That's why it can't be recommeded for travellers as there is no fallback to 2G/3G, roaming or phone calls.
Surfline Communications has been shut down in October 2018 by the debt management and tax compliance enforcement unit of the Ghana Revenue Authority (GRA). The move comes after Surfline failed to pay a tax default of GHc 37.3 million (US$ 7.7 million) between 2015 and 2017, with the GRA shutting down the head office of the company this week.
More info

[

]
Busy

[

]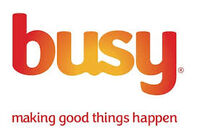 Busy is the new brand name for Busy Internet, which is the latest addition to the 4G service providers in Ghana. They have been around since 2001, providing internet café services and joined the 4G train in 2016. Currently their 4G/LTE coverage covers Kasoa to Prampram in the Accra metro area (coverage map) in 4G/TDD-LTE on band 40, 2300 MHz. That's why it can't be recommeded for travellers as there is no fallback to 2G/3G, roaming or phone calls
Availability

[

]
Buy a Busy 4G SIM card for GHc 50 including 5 GB of free data from any of our stores (store locator), if your device is compatible.
Top up your account using debit or credit cards, Mobile Money, recharge voucher or electronic top-up.
Data feature packages

[

]
Data
Time
Price
250 MB
7 days
GHc 7
Uncapped
GHc 75
Uncapped
15 days
GHc 150
2 GB
30 days
GHc 19
5 GB
GHc 35
10 GB
GHc 65
25 GB
GHc 140
50 GB
GHc 225
75 GB
GHc 260
Uncapped
GHc 295
100 GB
60 days
GHc 299
200 GB
GHc 399
More info

[

]