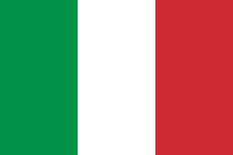 There are four network providers currently operating in Italy, with one merger and one new entrant scheduled:
TIM
Vodafone
W3 (WINDTRE) (merger of Wind and 3)
Iliad (launched in 2018)
The parent companies Vimpelcom and CK Hutchison of Wind and Tre (3) agreed to a merger in 2015. This deal was approved by regulatory bodies in 2016.Wind and Tre are merging to one network WindTre in 2017-20. Both brands have been maintained until in March 2020 the new W3 (spoken: WindTre) brand was introduced.
Both merging operators had to hand over spectrum to a new market entrant to get this deal approved. This new player comes from French Iliad Group that shook the French market some years ago with its brand Free mobile. In Italy it launched in May 2018 with predatory pricing starting a price war. The other providers reacted by lowering prices and launching new budget brands.
In recent years MVNOs have started up competing with the network providers on their networks. Major MVNOs like CoopVoce, PosteMobile, FastWeb, Lycamobile, Tiscali, NoiTel, ho mobile, Kena mobile, and Digi Mobil are listed. Italy is the most competitive market in Western Europe right now.
The city-state of the Vatican doesn't have own operators and is fully covered by Italian operators instead. The tiny country of San Marino used to sell own SIM cards by San Marino Telecom under the Prima brand, but has stopped this now. It's also fully covered by Italian antennas instead.
2G: up to EDGE is on 900, 1800 MHz spectrum is being reused for LTE
3G: up to DC-HSPA+ is on 900 (Band 8) and 2100 MHz (Band 1)
4G/LTE : 800 MHz (band 20), 1800 MHz (band 3), 2600 MHz (band 7). Additionally TIM is using the unusual 1500 MHz (band 32) in metro areas and Tre is testing TD-LTE on 2600 MHz (band 38). Vodafone has started to deploy LTE also on 2100 MHz (band 1) in large cities.
5G: started in 2019 on the major networks on 3500 MHz (n78) in a few cities, but only TIM and Vodafone are selling it so far, and only Vodafone sells it without requiring a link to an Italian bank account or credit card. For 5G there will be two physical networks: one built by TIM and Vodafone and a second one built by FastWeb and WindTre.
TIM and Vodafone used to have the best coverage. This has changed in 2020 when the newly consolidated network WindTre was unveiled and seems to be now on par with the other carriers what coverage and speeds are concerned. The new 4th operator Iliad has deployed some own 3G/4G infrastructure and relies on a 10 year- RAN-sharing and roaming contract with WindTre giving it a reasonable nationwide coverage at the start.
To purchase a prepaid (= ricaricabile) SIM card a photo ID (e.g. a passport) is mandatory in Italy. You can get them in the shops of the providers where they will be registered as well
You might be asked for a "codice fiscale" (tax code), a sequence of letters and digits for Italian citiziens and expats for tax and identification matters (more info in Italian.). As a non-Italian traveller you probably don't have yours, but given that it's made by an algorithm considering your name, gender, birth date and birth place, it may be easily created by specific software or online: How to create a codice fiscale. Some shop sellers may propose you to calculate yours to fill in the purchase contract: for an administrative point of view it might not be the best practice but, due to bureaucratic minutiae, in the end it's the faster way to get a SIM card. So better have your codice fiscale handy and print out when you buy a SIM card. While a codice fiscale is itself not a legal requirement to purchase and activate your SIM, some carriers require it in certain circumstances; for example, all major providers officially require a codice fiscale showing foreign birth to sign up for their plans for foreigners, and Vodafone even officially requires it for their tourist offer.
Triple cut mini-, micro-, nano-SIM cards are available for all networks.
All major operators also give out apps to check balance, change plans or activate options. However, Italian providers geo-restrict their apps in the Play or App Store. If you want to use them, check our manual how to install geo-restricted apps.
Italian SIM cards are generally very generous about their expiry. But during a pause some operators have tried to change your tariff in the past from a free base plan to a different plan with a monthly debit. As you mostly don't have connection in that period to receive system SMS, it's essential to check tariff plans from time to time online on your account, as long as you have standing balance on the SIM card.
The expiry policies of the major network providers is as follows: SIM will stay active for 11-12 months from activation or its last recharge. Then it falls in passive mode with credit frozen for up to 12 more months. During this time you can re-activate it by going to a service center of the provider showing your passport again. After 24 months from the last top-up your number will be suspended forever and the remaining credit is lost. Have in mind that many MVNOs have adopted a more rigid validity policy instead.

Italy is part of the EU, where from June 2017 new international roaming rules are enforced. In most European countries you can now 'roam like at home' at domestic rates rather than excessive roaming rates. Italian providers generally apply the rules without any limitations. For specifics about the new regulation check the
European Union
chapter and every provider below.
All major network operators TIM, Vodafone, Wind and Tre give out domestic allowances for EU/EEA roaming with and without special caps and may limit to 4 months of continuous use. What the MVNOs are concerned, this is also true to Poste Mobile, Tiscali, Kena Mobile and Coop Voce. Fastweb has also issued clear caps, Lycamobile gives out only some packages for roaming and Digi Mobil surcharges for roaming.
Note that if you plan on continuing to Switzerland, only FastWeb includes roaming in Switzerland (up to their EU roaming cap) for no extra cost. Other operators either require the purchase of a special roaming bundle or only allow it at a high standard roaming rate.
In 2016/7 most operators changed from a monthly cycle of 30 days to a period of 4 weeks or 28 days. Thus a year suddenly becomes 13 "months" or cycles. This policy was banned by the Italian parliament in a new law and all providers now have to go back to the billing of "lunar months". This transition happened in the spring of 2018 and led to a slightly different pricing as mentioned in the article. That's why the numbers in some offers are so odd with some providers. From May 2018 all billing will be in "true" months meaning the (re)start date of the plan stays on the same day of the month regardless how many days the current month has.
For all Italian plans you are on a base rate, that runs together with your add-on options. Italian operators try to make money as they put you on a payable base rate after activation of a new SIM card by default. By this way you will be charged 2€ to 3€ per month for advertisements and services you will most likely not need. It's recommended to change your base plan to a free base plan. This can be done already at the point of activation (sometimes for a fee), but must also be possible by law anytime through your online account or app for free. This change of base rates is especially suggested when you like to pause your plan for a while, because the base rate can't be stopped and SIM cards of some Italian providers can even run into negative balance.
Top-ups can be bought in the country at many places like tobacconists (blue-'n-white / black-'n-white "T" signs), supermarkets, newsagents and even some bars or coffeeshops.
Online many Italian providers decline credit or debit cards from out of the country on their website or through their app. This has now made illegal in the EU and at least EU-issued cards should be accepted, but it remains to be seen whether this new EU regulation has any effect. But trying to top-up from outside while roaming in Europe or keeping your SIM alive, you may run into high surcharges of 3rd party agencies.
There is a workaround confirmed for Vodafone, TIM, 3, Wind and others that accept PayPal. You need to open an Italian PayPal account on a random Italian address using the internet connection of your Italian SIM card (or a VPN with Italian IP). It needs to be linked to a different email address, if you already have a PayPal account in your country and will be verified through your Italian phone number. This Italian PayPal account can be used to top-up without any fees as long as currency stays in Euro (else only conversion fees apply). You can transfer funds from your local PayPal to the Italian or link it to most international credit or debit cards.
The Italian market is one of the most competitive in Europe. On this list many temporary offers are not listed as they change by the week. There are online offers that can only be ordered to an Italian postal address which is not so convenient for travellers. Offers for customers whose SIM cards haven't been actively used for a while called Win Back and for porting customers from other providers called Operator Attack are not listed too as they don't apply to most visitors. Always ask for promotions when you look around at the shops. Many Italian SIMs come with bonus programs attached or may try to trick you into 3rd party payable services.
TIM owned by Telecom Italia is still the biggest operator in the country. All of the country is covered by 2G, 97% of the population is covered by 3G and 4G/LTE is available in 6,300 municipalities covering 94% of the population: TIM 4G coverage. From 2017 the rather unusual band 32 on 1500 MHz was added for LTE aggregation in Turin, Milan, Rome, Naples, Palermo, Taormina and Giardini-Naxos.
5G started in summer 2019 in a few Italian cities and will be build up in cooperation with Vodafone. It is included on the Advance 5G and 5G Top plans (auto-pay required) and costs 10 € extra with any 4G offer (ask for the 5G On option).
A TIM SIM card costs 10 € with 5 € credit in their stores (store locator) . Sometimes they charge an activation fee for new customers of 3 € for activating a package. If you order online on their website sent to an Italian address, you will be charged 20 € and given 15 € credit pre-loaded with free delivery.
TIM now seems to accept foreign credit cards topping up online on their website (select "Ricarica online") when you tick the "Carta estero" box.
In Italy you can top-up by going to certain tobacconists, supermarkets, newsagents or bars, where the clerk behind the counter either does the recharge on his terminal for cash, or sells you a card with a 16-digit code you can SMS to 40916 in order to redeem the top-up.
For tourists TIM has released a SIM card called Tim Tourist for 20 € (+ 10 € for the SIM, including credit of 1 €), 200 minutes for call and 15 GB of data in Italy and up to 6 GB in the EU for a month.
Calls are domestic and international to 65 countries (for list scroll to Paesi Abilitati), data is on 3G/4G and will be throttled to 32 Kbps after exceeding quota. No upsize or extensions possible.
Some shops may not like to sell you this offer, as they don't get any benefits from it. Be firm and polite. You may show them a print-out of the offer or let them call Head Office. Numerous users reported problems in getting this official offer by going to more than one TIM store, but it's possible.
Their prepaid base plans (TIM calls them "Piani Base") are:one of the following
TIM Base e Chat costs 2 € per month with the first month after activation available for free. As long as you have another plan with data or a data add-on activated on top, this base plan allows you to use chat apps (for a list of apps see below under "Combo Plans") without consuming the allowance in the data plan or add-on. This base plan is enabled by default on any new SIM card.
TIM Base New and TIM Semplice are their base plans without a base rate and slightly higher domestic call and text rates; TIM Base New with a connection fee, TIM Semplice without.
If you are not interested in their special promotional add-ons, it's better to go with TIM Base New or Semplice base plans, as no weekly or monthly base rate is debited. Change for free in store already, on your online profile, by app or by calling 40916 or 119.
If no package for data has been activated, TIM charges the default tariff for data: 4 € per day for 500 MB at high speed (4G/LTE) then throttled to 32 Kbps. This is reset at midnight, when a new daily bundle is charged.
SIM cards are sold for 10 € with 5 € credit on, but many shops charge you more, telling that you must get an offer (usually voice and data bundles with automatic renewal every 28 days). No other data packages are offered with these tariffs. You have to switch to a combo, data or tourist plan instead. So the base plan is only an option for data users, when you park your plan while don't use it.
They have introduced prepaid SIMs with combined packages, all valid for a month. The new plans for all customers are now called "Advance" while "Senza Limite" plans are now only for special groups of customers (Young Senza Limiti for those under 30, International Senza Limiti for foreigners, and Senza Limiti 60+ for those over 60, not mentioned here because it costs more than International Senza Limiti for less data). All plans have automatic renewal on the same calendar day of activation. On a plan set to use residual credit, if there's no credit left, the plan will be renewed, but you have to top up, otherwise you won't be able to use the allowances. The plans available are listed below and come with unlimited voice:
Plan

Data
EU Cap
Top-up

Price

Auto-pay

Price

Extras
Activation Fee
Young Senza Limiti
30 GB
6 GB
14.99 €
+ 30 GB
(**)
12 €
Advance 4.5G
20 GB
8 GB
19.99 €
+ 20 GB
15 €
Advance 5G
50 GB
12 GB
n/a
29.99 €
9 €
Advance 5G'Unlimited
100 GB
20 GB(!)
n/a
49.99 €
(*)
None
(*) = 250 minutes, 250 SMS and 3 GB roaming in CH, Monaco, USA, Canada
(**) = chat, social media and music streaming zero-rated
(!) = plus 3 GB roaming outside the EU
Again, TIM Young Senza Limiti is limited to those under 30 years of age. All options with TIM can only be activated and deactivated online, by app or by calling 40916 or 119. All 5G plans must be linked to an Italian credit card or a local bank account. If you do not have an Italian credit card or bank account and want 5G, some EU-issued credit cards may work and American Express cards from other countries paired with an Italian address will sometimes work, but this is not guaranteed.
Chat includes unlimited use of WhatsApp, Facebook Chat, Skype, iMessage, Imo, Telegram, Viber, Snapchat, WeChat, all not in EU roaming. Music streaming includes unlimited streaming via Spotify, Deezer, Apple Music, iTunes streaming, SoundCloud, Google Play Music, Xbox live, Microsoft Groove, all not in EU roaming.
For more data, you can add another 2 GB for 5 €, with auto-renewal every month. Online, this is done on the TIM website; you can click "Offerte", "Mobile", "Voce e Internet", then look at "Opzioni TIM". For data overuse without an add-on 1.90 € per 200 MB are charged up to 1 GB or 9.50 € and then shut off.
Activation of a new data SIM is 5 € with a minimum top-up of 25 € leaving you 20 € credit on the account. You can activate it online, but it's better to do it in a TIM store. All packages are on up to 4G/LTE with up to 700 Mbit/s for a month each:
| Data plan | Data | EU cap | Time | Price |
| --- | --- | --- | --- | --- |
| Supergiga 20GB | 20 GB | 5 GB | 1 month | 9.99 € |
| Supergiga 50GB | 50 GB | 8 GB | 1 month | 13.99 € |
| Internet 100GB | 100 GB | 50 GB | 6 months | 49 € |
| Internet 200GB | 200 GB | 50 GB | 1 year | 99 € |
Tethering and hotspot use are allowed, as is MultiSIM, which allows you to share the allowance with one other SIM for free. In addition, there are two add-ons:
| Add-on | Unlimited | Time | Price |
| --- | --- | --- | --- |
| TIM Social&Chat | Social and Chat apps | 1 month | 5.30 € |
| Supergiga Video | Video Streaming | 2 months | 9.99 € |
See above list for Social and Chat apps included. Video Streaming includes Youtube, Amazon Prime, Netflix, DAZN, Dailymotion, and Vimeo, with no throttling.
These add-ons can be activated by going to the TIM website, clicking "Attiva" next to the desired add-on, and following the instructions (in Italian). They can also be activated at any TIM store.
TIM international - for foreigners only

[

edit

|

edit source

]
TIM international is a series of plans only given out to everyone born outside Italy. You will be asked for proof that you were not born in Italy. While the website states that you should have a codice fiscale indicating foreign birth, in many cases, any official document that shows your place of birth, like a foreign passport or ID card will be accepted. If it's not, see above to calculate yours.
TIM International Senza Limiti: 11.99 € for unlimited domestic mins and up to 300 mins to certain countries and 50 GB data with unlimited chat (for messengers see list above) in Italy (capped at 7.6 GB in the EU) per month, no further activation fees when activated on new SIM cards
TIM International 30GB: 9.99 € (9 € if linked to auto-pay) for 30 GB (EU roaming cap: 6.6 GB) per month. All consumption through WhatsApp, Facebook Messenger, Skype, iMessage, Imo, Telegram, Viber, Snapchat, WeChat is free (in Italy only, not in EU roaming). Activation charge: 5 € (online for free).
These plans need to be activated on an existing or new SIM either by calling customer service 119 or 40916 or online on your TIM account. All plans auto-renew. Use the same methods to suspend.
TIM has implemented Roam like at Home on all prepaid plans with roaming caps. Alternatively, they still offer these add-on packages on top of your allowance instead of taking it from your domestic bundle:
TIM in Viaggio Pass: 500 minutes voice (= 250 mins incoming and 250 mins outgoing), 500 SMS and 10 GB data valid for 30 days in EU/EEA, Switzerland, Monaco, UK, Channel Islands, Isle of Man, Faroe Islands, USA, Canada, and Brazil on all TIM voice & data SIMs for 20 €. This option can be activated by texting "TVPASS ON" to 40916. To check allowances, text 'SALDO TVPASS'.
TIM in Viaggio Internet: 4 GB for 10 days in the EU/EEA, UK, Channel Islands, Isle of Man, Faroe Islands, Switzerland and USA at 25 €. This option is only for data on data SIM cards. It can be activated by texting "VIAGGIOINTERNET ON" to 40916. To check allowances, text 'SALDO VIAGGIOINTERNET'.
For roaming in Switzerland and Monaco TIM offers TIM in Viaggio Full with 500 MB at 3 € per day. To activate, text 'VIAGGIOFULL ON' to 40916.
For Switzerland alone there is TIM Opzione Svizzera with 500 minutes and 5 GB data for 5 € a month. Activate on the TIM website here; scroll down and click "Attiva" next to "TIM Opzione Svizzera".
For roaming in 73 countries outside the EU/EEA zone from Afghanistan to Vietnam (full country list) including Cuba (!) TIM has introduced the new TIM in Viaggio Pass Mondo with 100 mins (= 50 mins incoming and 50 mins outgoing), 100 SMS and 2 GB for 10 days at 30 €. To activate text "TVPMONDO ON" to 40916, to check allowances, text 'SALDA TVPMONDO'.
tethering is enabled and allowed on all plans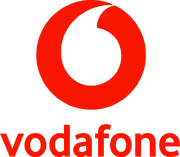 Vodafone is Italy's 2nd network and according to tests it has surpassed TIM both in 4G/5G speeds and coverage. 4G/LTE covers 98% of the population in 2019 and is included in most of their prepaid plans: Vodafone 4G map.
5G started in summer 2019 in a few Italian cites and is available on prepaid without surcharge on most plans. It will be deployed in cooperation with TIM in the years to come.
Their SIM card is for 10 € with 5 € pre-loaded, but almost all shops force you to get a bundle plan, so you have to pay extra money to get the SIM card with a bundle. SIM cards are sold in their stores (store locator), or online to be sent to an Italian postal address.
Vodafone can be topped up locally with 5-100€ using vouchers or in rare cases directly with the number, like the other providers. Vouchers can be redeemed by texting the 16-digit-code to 42010, or by using My Vodafone. It seems to be possible to top it up online on a third-party-site using international Mastercard or VISA without surcharge, even though it says in the conditions that only Italian cards would work. On mobile devices, the browser has to be switched to the desktop version. Their own online top up site, on the other hand, only accepts Italian cards and PayPal, everything else aborts with an error message.
To check credit, dial 414 (default voice rates apply, not included in bundles), or open My Vodafone (app or online). Be aware that Vodafone is the only network that charges calls to check the balance.
Vodafone activates a lot of unnecessary options that a free for a start, but become payable after a short time: Rete Sicura (Safe Net), Giga di reserva, Vodafone Smart Passport + and Vodafone Happy Black. All these options should be disabled through their app or on your online account.
Vodafone offers two base plans without a monthly base rate, that are rather expensive:
Tutto Facile Basic: has a daily rate of 4 € for up to 500 MB
Vodafone 25: has a daily rate of 5 GB at 6 €
On both plans every 100 MB on top is at 2 €. 4G/LTE is not included and costs 1.90 € extra. That's why their other plans may be a better deal. You can change plans on your online account or by app.
There are three combo plans, all valid for 28 days with 4G/LTE and 5G included plus unlimited calls and texts:
Plan
Data
EU cap

Top-up

Price

Auto-pay

Price 

Passes
Shake it Easy (*)
30 GB
10 GB
14.99 €
14.99 €
Chat,

Social,

Maps,

Music

RED Unlimited Start
20 GB
10 GB
24.99 €
18.99 €
RED Unlimited Ultra
30 GB
13 GB
34.99 €
24.99 €
(*) = Shake it Easy plan is limited to those under 30, auto-pay doubles domestic data allowance to 60 GB instead of discounting the price of service
Additionally, for out-of-EU usage, Unlimited Ultra includes 1 GB and 200 voice minutes, and Unlimited Black includes 5 GB and 500 voice minutes in Albania, Australia, Brasil, Canada, China, Hong Kong, India, Israel, Japan, Malaysia, Mexico, Monaco, Singapore, Switzerland, Thailand, Turkey, and the USA.
These prices are discounted as shown, if you link it to auto-pay through a credit card or an EU bank account. EU roaming is capped as specified.
In 2019 they introduced their unlimited data plans called Infinito. They all come with real unlimited data, unlimited voice and SMS, unlimited calls to the EU for 28 days and differ in their max. speed like this:
| Plan | max. Speed | Top-up Price | Auto-pay Price |
| --- | --- | --- | --- |
| Infinito | max. 2 Mbps | 36.99 € | 26.99 € |
| Infinito Black | max. 10 Mbps | 39.99 € | 29.99 € |
| Infinito Gold | LTE Max, 5G | 59.99 € | 39.99 € |
Have in mind that is has proven almost impossible to link Vodafone by auto-pay to a credit card which has not been issued in Italy or a non-Italian SEPA bank account. As a foreigner you may need to stay on top-up plans.
When a new SIM card is bought, Vodafone enables some extra services by default, such as Vodafone Rete Sicura ("safe" internet browsing - doesn't affect browsing at all), Vodafone Exclusive (this extra enables tethering and 4G/LTE, otherwise it would be 6 € per day of usage), Chiamami/Recall (this service sends a text if someone tried to call you while your phone was switched off/out of reach). If you are activating a RED Unlimited plan, these are included with your plan for free and you can leave them on. If you are activating a Shake it Easy plan or foreigner offer, these cost 1.49 € a month, 1.90 € a month, and 0.12 € per SMS sent respectively, and if you do not want to pay for these services, you can disable them online or by calling 42071.
To all offers Vodafone's social and chat pass is added for free. In Italy (not in roaming) it gives unlimited traffic not debited from your general balance through Facebook, Instagram, Twitter, Linkedin, Snapchat, Tumblr, Pinterest, Happn, Imo, ASKfm, Whatsapp, Skype, Telegram, Viber, WeChat, iMessage, Message+, Call+, Hallo , Viber and Snapchat.
Activation can be made online or by calling 42070. Base rate and data package will auto-renew after 28 days. When data is used up, you will be on the default rate of 2 € per day for 200 MB or you can buy another data package from the mobile app:
Extra 1 GB: 5 €
Extra 2 GB: 10 €
Extra 5 GB: 15 €
All add-ons will also renew after 28 days, if not stopped before. All allowances can be used in the EU for roaming without surcharges.
SIM for foreigners and tourists

[

edit

|

edit source

]
Vodafone offers a special plan to foreigners without Italian citizenship showing an ID document from abroad. It's called C'all Global Max and is a combo pack with 300 mins from Italia to about 50 countries, 500 domestic mins and 50 GB of data (or 70 GB if you can link it to a credit card or bank account, roaming in the EU: max. 5.6 GB) for a month at 11.99 € plus an activation fee of 3 €. It includes the Vodafone Pass Web Voce with zero-rated chat and messenger apps (see above), VoIP calls and 300 mins to EU/EEA, Argentina, Bangladesh, Canada, China, Colombia, Dominican Rep., India, Mexico, Pakistan, Peru, Switzerland, UK, USA and landline numbers in Australia, Brazil, Israel and Morocco.
As a tourist plan Vodafone offers Dolce Vita for 24.99 € per month exclusively to foreign tourists. It includes 30 GB in Italy (15 GB in the EU), 600 minutes domestic and to many international destinations and their Social, Chat and Map Passes with zero-rated apps. This plan is free of an activation charge.
Note that the terms for both of these offers indicate that a "foreign tax ID" is officially required (even for the tourist offer!). Follow the directions at the beginning of the wiki to calculate yours and have it ready, just in case.
They offer these usual prepaid data packages for modems and tablets in 4G/LTE for 28 days with an activation fee of 3 €:
| Package | Price | Data | Night Data | EU cap |
| --- | --- | --- | --- | --- |
| Total Giga Digital (*) | 15 € | 30 GB | + 15 GB | 5.5 GB |
| Total Giga | 30 € | 50 GB | + 50 GB | 10.9 GB |
(*) = the Total Giga Digital plan is officially only marketed online and may not be sold in stores.
Take care to buy either a prepaid (= ricaricabile) or a contract (= abbonamento) SIM! Night data is valid from midnight to 8am.
Vodafone has implemented roaming at domestic prices on all of their plans. All EU/EEA roaming is subject to a FUP of 3.7 GB per 10 € package price that is given out without surcharge.
But they offer 5 GB for full usage in the EU (except Italy) for 2,99 € per week without an activation fee with an option called Giga Europe. It does not auto-renew. Make sure to cancel all domestic plans immediately when they hit their FUP (SMS-notification), if necessary by contacting customer service. Otherwise the domestic plan could be preferred over this option and drain the balance.
Like TIM they offer multiple passports for outside the EU roaming zone:
in Switzerland, Turkey, Albania and Monaco - Smart Passport: 200 MB, 60 mins voice roaming (as 30 incoming mins and 30 outgoing mins) and 60 internatl. SMS per calendar day (based on Italian time) are included for 3 €. They charge you only on days of use. Beyond 200 MB per day, you are charged 2 € per 100 MB, up to 1 GB. VoIP is allowed, but no tethering. Use this APN while roaming: web.vodafone.it
in USA and Canada - Smart Passport+: 500 MB, 60 mins voice roaming (as 30 incoming mins and 30 outgoing mins) and 60 internatl. SMS per calendar day (based on Italian time) are included for 3 €. Beyond 500 MB per day, you are charged 3 € per 200 MB, up to 1 GB. They charge you only on days of use.
in 39 countries - Smart Passport+ Mondo: 30 mins voice (= 15 mins incoming and 15 mins outgoing), 30 SMS, 300 or 500 MB per calendar day (based on Italian time, varies by country) for 6 € per day.
Smart Passport options don't have to be activated ahead of time; upon first use in the destination country, the daily charge will be deducted. There is also a Travel Mondo option, which does have to be activated in your online account ahead of time:
Travel Mondo: 200 mins voice (100 mins incoming and 100 mins outgoing), 10 internatl. SMS, and 3, 5, or 10 GB depending on destination country for 10 days are included for 24.99 €. Overuse of data will be charged at the Smart Passport daily rate for the country you are currently in.
Check here to see what data allowance applies to the country you will be visiting.
Do not speed test against Vodafone Italia servers for example on speedtest.net, several people got banned from data usage, despite way more than enough remaining data volume. This ban can apparently be lifted via a callback from a special department via the customer service.
Vodafone also sells these porting plans officially called Special but often referred to as Operator Attack. They are even cheaper than their usual plans mentioned above and start at 6 € or 7 € for 100 GB. The official prerequisite to join such a plan is an existing active SIM card by one of their competitors. There are different rates for every brand or operator. You can easily get an Illiad SIM and port it again. Porting is free in Italy and must be processed within 3 working days. Some Vodafone stores sell you these plans without porting under the shelf, but you should be ready to negotiate in Italian for it.
VoIP is allowed, Tethering is allowed and free (used to be 6 € extra on data SIMs)
4G/LTE has no speed cap (except in the lower Infinito plans) and 5G is often accessible where deployed
if you end your data allowance your connection will be blocked until next renewal or you will pay exceeding usage, following the plan rules
APN: mobile.vodafone.it /or/ web.vodafone.it - special APNs for the roaming bundles (see above)
Website in Italian: http://www.vodafone.it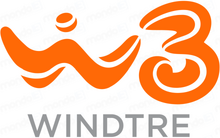 In 2017 WindTre was born. This newly merged company has 27 million mobile customers. In 2018 Hutchison (former owner of Tre) took over the rest of the company and bought out Veon (former owner of Wind). For the time being both brands were sold separately.
Meanwhile the newly combined network scored many points in network tests and seems to be on par with TIM and Vodafone now. Both Umlaut and OpenSignal found out in 2020 that W3 4G coverage is equal to the other two networks and average speeds are even slightly higher at 28.6 Mbit/s.
Finally, as of 16 March 2020 the new brand and logo W3 (called: WindTre) was introduced and both brands have now merged commercially.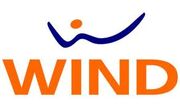 Wind used to be Italy's 3rd network in market share before the merger with Tre in 2017. All old offers of Wind have been discontinued, but Wind users have grandfathering meaning they can stay on old plans or change to new WindTre offers.

3 (spoken: Tre) used to be Italy's 4th and smallest network by market share before the merger with Wind in 2017. It used to be 3G and 4G-only, but after the Wind merger 2G is offered too, while the old 2G roaming on TIM has been discontinued. As of March 2020 all old offers of Wind have been discontinued, but 3 users have grandfathering meaning they can stay on old Tre plans or can change to new WindTre offers.
SIM card or rather activation costs 10 €, done in WindTre shopsStore Locator plus 6.99 € for the activation of the plan.
Top-up cards can be purchased in tobacco stores for 5€, 10€, 15€, etc. all over Italy. W3 excludes most international credit and debit cards from their online top-up, but PayPal remains an option. Without top-up, the SIM card is valid for 30 days after activation. After each top-up the validity gets extended by 13 months.
Text "Saldo" to 4155 to get your balance and the details of the offers on your SIM card and "Dati" to get data credit.
WindTre is the first operator that has changed their prepaid-plans drastically: all plans cost 4 euro's per month, starting september 23, 2020. With this change, WindTre is the first operator where the prepaid-plan has a monthly cost. From this 4 euro per month users can call and send SMS. Data costs are 1 euro per day for 1 gigabyte of data. So better add a combo plan.
You can change to their combo plans instead with auto-renew every month on the same day and include unlimited calls and texts and data allowance:
Tariff
Top-up

Data

Auto-pay

Data

EU cap
Price
Restriction
Start
10 GB
20 GB
5.7 GB
11.99 €
Large
20 GB
40 GB
7.1 GB
14.99 €
Extra Large
30 GB
60 GB
8 GB
16.99 €
Unlimited
n./a.
unlimited
14.1 GB
29.99 €
Student
40 GB
80 GB
4.7 GB
9.99 €
under 20 y/o
Young
40 GB
80 GB
5.7 GB
11.99 €
under 30 y/o
Auto-pay called "Easy Pay" can only be linked to an Italian credit card or a local bank account. When ordered online to a store or Italian postal address, activation fee is skipped. Be prepared to show your ID. Otherwise activation fee is 6.99 € as long as you don't port the number within 2 years. Otherwise, they will try to charge 19.99 €, if you change.
If you need more data, overuse fee is 0.99 € per GB per day (until midnight).
These data-only plans are given out for tablets and modems, but work in smartphones too:
Plan
Time
Top-up

Data

Auto-pay

Data

EU cap
Price
Cube Medium
1 month
30 GB
60 GB
4.3 GB
8.99 €
Cube Large
1 month
50 GB
100 GB
6.1 GB
12.99 €
Internet Card
2 months
100 GB
100 GB
7.1 GB
9.99 €
Activation is online or by texting code to 4033 for free. Activation fee for the options is 6.99 € each. Auto-pay gives double data, but you may have to use an Italian credit card for it. Having reached included volume, speed is throttled to 32 Kbps. They will auto-renew after 28 days. To stop text 'INTERNET NO' before renewal to 4032. To check data balance, text 'DATI' to 4155. Several tests done with different mifi-routers show that WindTre seems to throttle the speed, when the sim is used in a modem, while using the Sim in a smartphone gives full speed.
Finally WindTre also released a SIM card aimed at tourists:
Italy Tourist Pass: 24.99 € - including 100 minutes voice domestic and and 100 mins to 40 countries (list in the middle [1]) and 20 GB of data valid for 30 days. Note that this offer does not include EU Roaming.
For non-Italian citizens only carrying a passport or ID from outside the country, WindTre has released these offers:
Giga International: 9.99 € - including 40 GB data (EU cap: 4.7 GB) valid for one month. The activation fee is 5 € and the SIM card is for 9 €, making the total cost 24 € for the first month and 10 € for following months. This offer is only for customers with foreign citizenship. It can be started by texting 'GIGA INTERNATIONAL SI' to 4033. As it auto-renews after a month, it can be stopped by 'GIGA INTERNATIONAL NO'. Check data balance by texting 'SALDO' to 4155. After using all your data, the allowance can be renewed by texting 'INTERNET RESTART SI' to 4033.
Call your Country
Plan
Top-up

Data

Auto-pay

Data

EU Cap
dom. Voice
IDD Voice
Price
CyC Super
30 GB
50 GB
4.7 GB
500 mins
250 mins
9.99 €
CyC Premium
50 GB
70 GB
6.1 GB
500 mins
300 mins
12.99 €
CyC One
100 GB
unlimited
9.4 GB
unlimited
500 mins
19.99 €
Auto-pay data must be linked to a credit card. Check balances by *123*168#
Wind has scrapped all roaming surcharges and introduced "Roam like Home" dubbed "Easy Europe" in all EU/EEA countries and offers roaming in all of their prepaid plans at domestic rates. In 2018 they implemented a FUP, in 2020 lowered to 4.7 GB for a 10 € plan, see calculator without surcharges. All overuse will be surcharged with 0.427c per MB (equal to 4.30 € per GB).
For roaming outside the EU zone they have released three passes:
Travel Daily: 30 mins (= 15 mins incoming, 15 mins outgoing), 30 SMS and 100 MB per day for 6 € in about 50 countries mentioned here. Activation is by texting "TRAVEL DAILY SI" to 4033.
Travel Weekly: 200 mins (= 100 mins incoming, 100 mins outgoing), 200 SMS, 600 MB per week for 10 € in about 10 countries mentioned here. Activation is by texting "TRAVEL WEEKLY SI" to 4033.
Giga Travel Weekly: 1 GB per week for 10 € in Monaco, Switzerland, USA, Albania, Armenia, Australia, Bangladesh, Egypt, Georgia, Israel, Kazakhstan, Kyrgyzstan, Macao, Malaysia, Moldavia, Montenegro, New Zealand, Qatar, Russia, Serbia, Singapore, Thailand, Taiwan, Tajikistan, Tunisia, Turkey and Uzbekistan. Activation is by texting "GIGA TRAVEL SI" to 4033.
All packages have a fee of 2 € for activation. The price of the pack is only charged when the package is used for roaming. They may auto-renew, if you have credit and stay in the roaming area. You can restart the weekly packages by "RESTART" to 4033. Three months after activation the package will automatically be deactivated.
old APN of Wind: internet.wind
old APN of Tre: tre.it
new APN of WindTre: internet.it
Tethering and VoIP are both allowed
Website in Italian: https://www.windtre.it/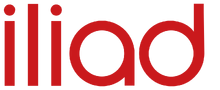 Iliad by the French operator that offers 'Free mobile' in France has acquired the 4th licence as network operator in Italy after the merger of Tre and Wind. They employ national roaming and RAN-sharing in 2G/3G and 4G/LTE with WindTre after sealing a contract for 10 years (In non merged areas only WindTre network is used).
The new network was commercially launched in 2018. Because of the agreement with WinTre coverage is nationwide and equal to Wind or Tre (coverage map) and their signal might be shown as '222-50'. It's expected that the highly competitive market in Italy will be again heated up by their low-cost model.
Their introductory offer in May 2018 shook the industry. Like in France they don't offer regular prepaid plans, but only rolling contracts, that can be terminated at the end of each month. In summer 2018 they signed two million users within three months alone targeting a 10% share of the Italian market later.
Their SIM cards are available in a few stores (store locator), online to be sent to an Italian postal address only or at the self service kiosks called "Sim-Box" similar to the French bornes. There you need to scan your ID and link your credit card to the new contract. There is only one plan available so far, that isn't prepaid, but a rolling contract and some foreigners have been able to sign up so far. A new SIM card in triple format is for 9.99 € at the machine or by mail.
You can change the payment method to "Manual" (simple prepaid, not linked to any credit card) in your personal Iliad account in "I miei Dati" section.
The rolling contract can be terminated by a written cancellation (called: recesso): this can be done by sending a fax to +39 02 30377960 or online in your personal Iliad account.
They only offer two plans currently:
Giga 50: unlimited minutes and SMS and 50 GB in Italy for 7.99 € per month. Voice calls to 60 countries (landlines only) are included, but only 4 GB of roaming allowance outside Italy.
Voce: unlimited minutes and SMS and 40 MB in Italy and the EU for 4.99 € per month.
All excess data are charged with 0.90 € per 100 MB in Italy.
Roam like at home is up to 4 GB on the Giga 50 plan. All data beyond are for 0.427c per MB (that's 4.27 € per GB).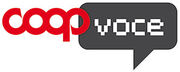 Coop Voce is a MVNO using the TIM network, running on 2G, 3G, and 4G/LTE. SIM cards are sold by one of the Italy's biggest supermarket chain "coop" in their larger stores nationwide: coop store locator. An Android/iOS app is available to check balance and remaining allowances and to enable new plans.
In 2020 Coop Voce becomes a "full MVNO". It will stay on TIM network, but gets more freedom to do its own portfolio and billing. For this a SIM card swap for existing customers is needed and they give out new SIM cards called Coop Evolution.
The SIM card is sold for 10 € with 5 € balance. You can change tariffs online in your clients area or by calling 188 or 4243688. The first change is free, all subsequent changes are for 5 €. Be sure to get a new Coop Evolution SIM.
Top-ups can be made at Coop shops, at tobacco's or online after registration even with foreign credit cards in increments of 5 €. To check your balance, text 'INFO SIM' to 4243688 for free. To top-up by voucher text 'RIC<blank><voucher PIN>' to 4243688.
Coop Voce always advertises feature plans changing from month to month. Generally, it's called Top20, 30, 40 or 50 and involves 20-50 GB per month and unlimited voice for 8-10 €. This is added by a smaller plan:
Easy +: with 3 GB, 1000 minutes and 300 SMS for 5 €
Top20: with 20 GB, unlimited minutes and 1000 SMS for 8 €
Plans can be stopped at the end of the month or renewed ahead of time by texting "RINNOVA <plan name>" to 4243688, but only the running feature plan can be activated then for a 9 € fee or any data packs (see below).
These packages can be added for data or after disabling the combo plan for data-only:
| Data | Time | Price |
| --- | --- | --- |
| 3 GB | 1 month | 3 € |
| 10 GB | 1 month | 8 € |
| 20 GB | 1 month | 12 € |
| 10 GB per month | 12 months | 69 € |
| 20 GB per month | 12 months | 99 € |
For activation, simply go online to your account or your their app. Check data credit by texting 'INFO SIM' to 4243688 or +39 3344443688. When you have used up all data, you can buy another package ahead of time by calling 118. Each package will automatically renew after one month, if there is credit. If not, the pack will be terminated. To stop call 4243688 before the renewal date. The SIM stays valid for 24 months, which is the longest time without top-up of any Italian SIM card.
Coop Voce implements "Roam like at home" regulations for EU roaming at domestic rates. They remain one of the very few providers in Italy who haven't specified a FUP yet and give all domestic volume in EU countries without any restrictions so far.
Two additional packages are available for Switzerland and the USA:
Welcome Swiss: 5 € for 100 minutes and 1 GB for 7 days
Welcome USA: 15 € for 300 minutes, 300 SMS, and 4 GB for 15 days
Activate by texting "SI <package name>" in all caps to 4243688. Packages can not be renewed early; if you use up your data allowance before the package expires, data will stop until expiry time, at which point you can renew your package or be charged the pay-per-use rate of 0.50 € per MB.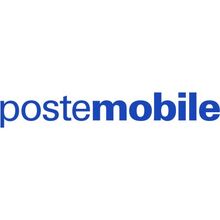 PosteMobile is the MVNO of Italian Mail (Poste Italiane) which used to operate on Vodafone. In 2014 they switched over to Wind and are now on the WindTre network in 2G, 3G and 4G/LTE. It's the biggest MVNO by customer numbers in the country with over 3 million users in 2019 and opened 4G/LTE for all of its tariffs.
This SIM can be bought (theoretically) in every postal office in Italy and postal agencies called "ki point" for 15 € with 5 € credit included, but they are probably easier to find in the central post offices: (list ). SIM cards are also sold online on their website to be sent to an Italian postal address.
Anyway, all post offices and agencies accept top-ups as well as tobacconists, kiosks and betting agencies or you can do that online after registration using a credit/debit card.
Creami Extra WOW:

10 GB (max. 3.28 GB in the EU) and unlimited voice and SMS for 7 €
Creami NeXt contains unlimited calls and SMS and a data quota according to the lenght of your package:

Creami NeXt 1: 10 GB for a month (EU max: 4.68 GB), 10 € every month
Creami NeXt 3: 30 GB per month (EU max. 4.68 GB), 30 € for three months
Creami NeXt 6: 50 GB per month (EU max. 3.9 GB), 50 € for six months
Creami Revolution contains 7 GB data a month and 1000 units that can be used for mins or SMS (1 unit = 1 min = 1 SMS = 1 MB) or data:

Revolution 1: 12 € for a month, (EU cap: 5.62 GB)
Revolution 3: 30 € for 3 months, (EU cap: 4.68 GB)
Revolution 6: 48 € for 6 months, (EU cap: 3.75 GB)
All packages auto-renew, if there is enough credit. Some more offers are available only only to be mailed to an Italian postal address.
Like TIM and WindTre Poste Mobile has one plan which can only be bought by costumers who have activated the SIM showing their foreign ID in a post office. It's called Il Tuo Mondo WOW and has 15 GB data (max. 4.68 GB in the EU) and 1000 minutes and SMS for 10 € per month.
For tablets and routers, PosteMobile gives out data-only SIM cards on 4G/LTE too for 15 € with 5 € credit inlcuded. One of the 4 choices need to be activated after purchase or by command valid for a month:
Mobile 3Giga: 3 GB: 5 €, no EU cap - activation: text 'SI 3GB', to stop 'NO 3GB'a
Mobile 10Giga: 10 GB: 10 €, EU cap: 4.68 GB - activation and deactivation: online
Mobile 30Giga: 30 GB: 15 €, EU cap: 7.03 GB
Speed is up to 150 Mbit/s on 4G. All packages auto-renew. To activate or deactivate, text code to 4071160. For overuse, a high fee of 0.50 € per MB is applied, but you will receive a message before.
Alternatively, they sell 2 time-based packages now on 4G/LTE too:
Internet 30 ore: 30 hours per month, EU cap 4.64 GB: 9.90 € - activation online or text 'SI 30ORE'
Internet 100 ore: 100 hours per month, EU cap: 8.9 GB: 19 € - activation online or text 'SI 100ORE'
Speed is up to 4G/LTE. Activation is sent to 4071160. All packages auto-renew. To stop text 'NO ??ORE' with ?? your package to the same number. For overuse a high rate of 2.02 € per hour is applied, but you will receive a message before.
PosteMobile has so far applied Roam like home principles for EU roaming at domestic rates. Most data packages are capped according to EU FUP rules indicated at every plan above.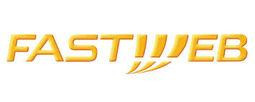 Fastweb is an Italian MVNO specialising in Triple Play and Broadband Services. It has been bought by Swisscom. In 2016 it moved from the Tre network to TIM and added 4G/LTE to all of its plans in 2017.
In 2020 they are working on building a 5G network together with WindTre. That's why it's planned to migrate Fastweb's customers back to the WindTre network in 2020.
Their SIM card is sold at their sales outlets: Fastweb Store Locator or online sent to an Italian postal address. Price for a starter is 5 € and 15 € for a first top-up. For delivery by mail, SIM and shipping are free with the first top-up being only 10 € due to a current promotion. Their plans need to be linked to a credit card for auto-pay, but can be discontinued anytime.
There is now only one plan available for voice and data:
Fastweb Mobile: 9.95 € with 50 GB, unlimited mins, 100 SMS
Speed is up to 100 Mbps on 4G and will be throttled to 64 kbps beyond data limit, but you can buy another 1 GB at 2 €. Call allowance includes Italy and to these 50 countries (list).
Fastweb has implemented Roam at home in EU countries with caps. The cap for EU and Swiss roaming is 4 GB, 500 voice minutes, and 100 SMS. As only provider in Italy, Switzerland is included to their EU zone and given out without surcharges up to 4 GB.

Lycamobile is an UK-based MVNO which started its operations in Italy in summer of 2014 and is already the 2nd most popular MVNO in the country by customer numbers. It operates on the network of Vodafone in 2G and 3G and new on 4G/LTE (for coverage see above) at max. 25 Mbit/s.
Their SIM cards are sold for free in their outlets like Carrefour hypermarkets: Lycamobile store locator. Top-ups must be done right away there, or e.g. at Coop and Pam supermarkets. To find more shops for reloads click "Ricarica" on the store locator link.
Default data rate is 0.15 € per MB. They offer these monthly packages:
| Data | EU cap | Price | Activation |
| --- | --- | --- | --- |
| 1 GB | 1 GB | 5 € | *139*1001# |
| 2 GB | 2 GB | 7 € | *139*1002# |
| 4 GB | 4 GB | 10 € | *139*1003# |
| 10 GB | 6 GB | 12 € | *139*1004# |
This package will auto-renew every month, if there is credit. To stop, call customer service at 40322. You can add extra data, valid for the rest of the running time of the base package:
1 GB: 3 €, activation: *139*10011#
2 GB: 6 €, activation: *139*10022#
Lycamobile gives out their data-only packages for EU roaming up to a certain FUP cap mentioned above. All EU roaming data beyond the included cap is charged at 0.15 € per MB.
In many countries Lycamobile actively prevents tethering, including Italy. Tethering is blocked also with data packs, where customer has bought certain amount of data for use.
Actively blocks VPN. Any bypassing of a tethering block by VPN is not possible.

Tiscali is an Italian-based international triple player that has introduced a prepaid product some years ago. It operates on the network of TIM on 2G and 3G, No 4G/LTE for prepaid so far which is a huge drawback, but has been announced for the for 2019 on TIM's network, but hasn't happend so far.
Their prepaid SIM is only available in their own stores and outlets (locator). A new SIM card is for 10 €. The activation fee of a new plan of 10 € and is waived for new customers, but a minimum 10 € top-up is required.
Top-ups can be made there or online using credit cards or PayPal from 5-100 €. Check credit by calling 4130.
Default rate is a high 0.30 € per MB. Speed is up to 42.2 Mbps on 3G network. They offer these three plans:
| Plan | Data | Voice | SMS | Price |
| --- | --- | --- | --- | --- |
| Smart | 1 GB | 60 mins | 10 | 2.99 € |
| Smart 10GB | 10 GB | 200 mins | 10 | 4.99 € |
| Smart 30GB | 30 GB | unlimited | 100 | 7.99 € |
| Smart 60GB | 60 GB | unlimited | 100 | 11.99 € |
These packages must be activated on your personal account. Packages auto-renew after one month, if not stopped. Overuse is charged at the high default rate.
For visiting tourists Tiscali has special offers valid for 7 days:
Smart Tourist EU: 2 GB, 100 dom. mins, 100 mins to the EU - 16 €
Smart Tourist USA: 2 GB, 100 dom. mins, 100 mins to the US - 20 €
Smart Tourist Mondo: 2 GB, 100 dom. mins, 50 mins to most countries - 30 €
All SIM cards can be extended in value or time by adding a new pack for the same price.
In summer 2018 Italian regulator Agcom has authorized Tiscali to opt out of the roam-like-at-home requirement in the EU over a period of 12 months on grounds that it won't be able to cover the corresponding roaming costs. As of 2019, Tiscali no longer opts out, and implements a FUP instead, based on a formula of 2 x (price of plan without VAT / 4.5) = GB available without surcharges.

In 2017 TIM's new MVNO started on the TIM network in 2G and 3G and is now on 4G/LTE too. It's a sub-brand of TIM enabled by Noverca and a no-frills provider to fight the arrival of Iliad.
Kena Mobile has activated 4G/LTE for all its clients in 2018, although customers on older plans will have to switch to a new offer. 4G/LTE download and upload speeds are both limited at 30Mbps each.
Their new SIM card can be ordered online or by going to one of their few stores so far in the largest towns (locator). The activation fee including a new SIM card is free as a promotion.
Top-ups can be made online (foreign cards don't work, but PayPal should), in their few stores or by buying a voucher in all Lottomatica or Sisal betting agencies. Check credit online or by calling 40181.
For new clients without porting from other providers they offer two plans:
70 GB (EU cap: 7 GB) and unlimited minutes and SMS for 13.99 €
100 GB (EU cap: 6 GB), 10 mins, 10 SMS for 11.99 €
Activation charge is 9.99 €. For more data you can add 1 GB for 3.99 € valid for 30 days or the expensive default rate is charged. You can manage your plan and add-ons by app or on your personal account. Once this bundle is deactivated, it can not be activated again: only bundles with less data or minutes are available then.
Allowances can be used roaming in the EU/EEA at the domestic Italian rate without surcharges up to the limit indicated in the table. Note that roaming in the EU is not on 4G which is blocked, but on 2G/3G networks only.

Ho. (Italian for "I have got") is Vodafone's new budget brand through Vel Srl. introduced in 2018 to counter Iliad and other budget brands like Kena. It uses the network of Vodafone in Italy on 2G/3G and 4G/LTE, with a speed limit of 30 Mbit/s.
Their SIM card can be ordered online to an Italian postal address and activated through a video chat and through their app. For foreigners it might be better to order it to or buy it in one of their 3000 sales points in the country (locator). The starter and activation fee is sold for 9.99 € plus a top-up of 9 or 13 € for the first month.
Top-ups are online from 5 € to 50 €. Ho promises to accept all credit cards, even American Express and PayPal. Otherwise, you can buy vouchers in tabaccerias, Lotto and Sisal stores. Balance check is 42121 for free.
They offer two plan for new customers (not porting) in 4G/LTE capped at 30 Mbit/s:
50 GB and unlimited minutes and SMS for 8.99 € per month
100 GB data-only for 12.99 € per month.
EU roaming is capped at 6.1 GB for both offers without surcharges. This plan auto-renews after one month. If you have used up all allowances, you can only restart the whole package ahead of time.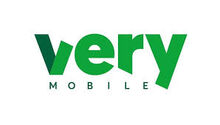 In March 2020 the newly merged WindTre network also launched a new low-cost secondary label like TIM with Kena and Vodafone with ho.mobile before. They resell the WindTre network in 2G, 3G and 4G/LTE throttled at 30 Mbps.
Very Mobile SIM cards are sold online through their website with free delivery to an Italian postal address. Since April 2020 they are also on offer in some 3000 stores, but not WindTre stores (check: locator). SIM card and activation are for 5 €.
Top-ups are made online with Visa- and MasterCards or PayPal starting from 5 €. In Italy you can also buy vouchers at tobacconists and betting agencies.
For new customers, they only offer one plan for 4.99 € per month. It includes 30 GB in Italy (capped at 2.4 GB abroad in Europe), unlimited texts and voice. All overuse is at 3c per MB in Italy and 4.27c per MB abroad in the EU.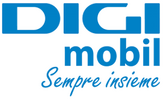 Digi Mobil is a Romanian MVNO by RCS & RDS operating in Spain and Italy too. It used to run on the network of Tre, but changed to TIM network in 2016 on 2G and 3G and from July 2019 in 4G/LTE up to 100 Mbit/s too. Note that Digi surcharges EU data roaming.
Digi Mobil sells their SIM card called Dual Nation in their stores (locator) with an Italian (+39 353...) and a Romanian (+40 772...) number combined for 10€ that is included as credit too.
You can top-up at Lottomatica Italia and Sisal or online using credit cards. Check balance by *146#. You need to top-up at least every 12 months to keep the SIM card alive.
They sell combo packages with calls to 50 countries included combined with a data bundle or data-only packages valid only in Italy for 30 days:
Combo packages:

Combo 5: 5 € - 2 GB, 250 mins to Italy and 57 countries
Combo 10: 10 € - 8 GB, 500 mins to Italy and 57 countries, 1500 on-net mins
Combo 15: 15 € - 16 GB, 1000 mins to Italy and 57 countries, 2000 on-net mins
Combo 20: 20 € - 32 GB, 2000 mins to Italy and 57 countries, 3000 on-net mins

Data-only packages:

Naviga 5: 5 GB: 5 €
Naviga 10: 10 GB: 10 €

Add-on packages (valid for the rest of the running time of the base pack):

Naviga Extra 500 MB: 1 €
Naviga Extra 1 GB: 2 €
Naviga Extra 3 GB: 5 €
Activation and deactivation is by code *146#, check data balance by *147#. Monthly packages (not the add-ons) auto-renew after 30 days. Unused data on the combo plans (not the data-only or add-on plans) roll over to the next month.
Digi Mobil now offers EU roaming data, but at a surcharged rate of 0.035 € per MB. The Naviga Europa option is also available at a cost of 3 € for 1 GB of EU roaming valid for one month, activated by dialing * 146 #. This option can be reactivated if data is exhausted before the 30 days are up.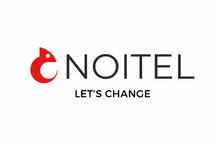 Noitel used to be another MVNO on TIM's network in 2G and 3G. In 2019 they migrated from TIM to Vodafone network with a new logo to finally offer 4G/LTE access with downloads up to 60 Mbit/s and uploads up to 40 Mbit/s.
Their SIM card is available in some outlets (locator) for 10 € with the same credit pre-loaded or can be ordered online to be sent to any Italian address for free. Activation fee for any of the plans below is 5 €.
Top-ups can be made in 70,000 Lottomatica or Sisal agencies in Italy or online by credit card. Check credit by *123#.
Default data is at 0.10 per MB. They offer these new combo plans for a month on 2G, 3G and now on 4G/LTE too in up to 60/40 Mbit/s:
| Plan | Data | Voice | SMS | Price |
| --- | --- | --- | --- | --- |
| Step | 2 GB | 300 mins | 10 | 2.99 € |
| Next Step | 5 GB | 500 mins | 50 | 4.99 € |
| Xplore | 20 GB | unlimited | 10 | 9.99 € |
| Xplore All | 30 GB | unlimited | 10 | 11.99 € |
You can use the default rate and all data packages mentioned above in the EU/EEA. You may need to enable roaming by texing 'WORLDDATAON' to 404060.
Community content is available under
CC-BY-SA
unless otherwise noted.