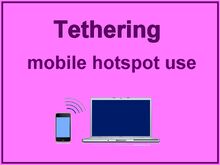 Definition Edit
Tethering allows sharing an internet connection of a phone or tablet with other devices such as laptops. Connection amongst mobile devices can be done over WiFi, Bluetooth or by using a cable, for example USB. If tethering is done over WiFi, the feature is called Mobile Hotspot. The mobile device connected to the internet can thus act as a portable wireless access point and router for other mobile devices connected to it.
Availability Edit
Tethering is possible on:
Android phones from version 2.2
BlackBerry devices from OS 7.1.
iPhone 4, iPads 3rd gen. or later with iOS from 4.2.5 or later
Windows Phone from OS 7.5 or later
to any device which can be linked by WIFI, Bluetooth or USB cable.
Tethering and mobile providers Edit
Some providers don't like tethering very much or like to charge extra for using it. Some others ban it in their T&Cs. But most of the providers nowadays allow tethering, because it needs some effort to really distinguish tethered data from non-tethered. Only very few operators sniff and block it. Where a special policy is known, it's stated in the respective chapters. But even when it's blocked like on many Lycamobile plans, you can still use it in different mobile devices, but not simultanously.
There are different ways for the mobile provider to detect tethering ranging from Deep Packet Inspection to TTL checks. A good guide is provided here: http://android.stackexchange.com/. If you know the way how your phone company sniffs tethered connections, you can bypass it by counter measures. But this requires a rooted phone and special technical knowledge.
Tethering and iOS devices Edit
While Google (Android) and Microsoft (Windows Phone) always enable tethering on their devices, Apple (iOS) is more restrictive with its phones and tablets. Here a special profile for tethering needs to be activated and installed. This can only be done, if the mobile network operator releases an official profile for tethering on the iPhone and iPad. Thus mobile operators can much more effectively control on Apple devices whether you can tether on their network or not.
So restrictions for Apple products on tethering can't be generalized to other systems. Generally, 3rd party apps can circumvent any lock-out, but for this your device needs to be rooted and/or jailbroken.
Community content is available under
CC-BY-SA
unless otherwise noted.